Press Releases
New ServoBelt™ Rotary Model Delivers Precision Positioning for Heavier Loads
Goleta, CA, January 30, 2012—Bell-Everman will be debuting its new ServoBelt™ Rotary 200 (SBR 200) at booth 4205 at this year's ATX Show.
Suited to any medium-duty rotary positioning application, the SBR 200 is a natural fit for production and assembly machines needing to move loads up to 100kg. It features a huge through hole relative to its overall size, which makes it easy to bring utility connections, sensors and other functional components to the top of the stage.
The SBR 200 offers a drive mechanism enhancement not available on previous ServoBelt models. Its larger package size has enabled the integration of a full-fledged ServoBelt drive mechanism. This high-stiffness symmetrical drive mechanism enhances stiffness and eliminates backlash, which contributes the SBR 200's tight positioning accuracy.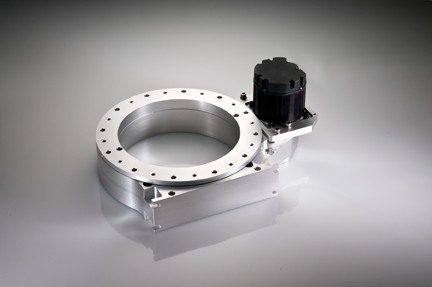 SBR 200 Technical Specs:
The SBR 200, the new rotary stage provides:
A 200-mm through hole
Torque to 38 N-m
Load capacity of 25 kN (axial) and 21 kN (radial)
Max moment of 1050 N-m
Bi-directional repeatability of ±100 arc-sec
Uni-directional repeatability of ±15 arc-sec
Accuracy of ±60 arc-sec
Payload maximum 100kg
For more information come along to booth 4205 at the ATX Show or visit our ServoBelt Rotary product page.
---