A Smaller ServoBelt™ For Biomedical Machines
ServoBelt is shrinking. And for the makers of biomedical machines and lab automation equipment, smaller really is better.
While our full-sized ServoBelt linear axis has been put to work in larger biomedical machines, a customer who makes diagnostic equipment recently asked us to create a compact ServoBelt sized for "benchtop" machines. The result is a new ServoBelt built around 30-mm Bosch Rexroth aluminum t-slot framing and 15-mm profiled bearings–down from the 45-mm framing and 20-mm bearings used on our larger ServoBelts. The new "ServoBelt 30″ is sized for NEMA 23 and smaller motors, versus NEMA 23 and 34 motors for our larger ServoBelts. Working payload for the scaled-down ServoBelt will vary with length and motor size, but expect it to handle payloads up to 20 kg in benchtop machine applications.
Other than the differences in size and payload, the ServoBelt 30 performs just like our larger models (view all the specs here). For example, expect a repeatability of +/- 10 µm and accelerations up to 4 g in typical benchtop applications.
Though small, the new ServoBelt promises to have a big impact on biomedical machines. ServoBelt 30's rigid profiled bearings and low moving mass allow the axis to be driven with a single small motor. That's one less motor per axis than you'll see on many biomedical machines, which tend to have round-rail bearings and a motor at either end of each linear axis. Compared to drives built around round rails and dual motors, ServoBelt 30 not only saves the cost of those extra motors and controls but also ups ante on speed, accuracy and resistance to moment loads.
Other than biomedical machines and lab automation applications, the ServoBelt 30 also fits nicely into a wide variety of small-scale fluid handling, testing, inspection, and prototyping machines.
Check out the images.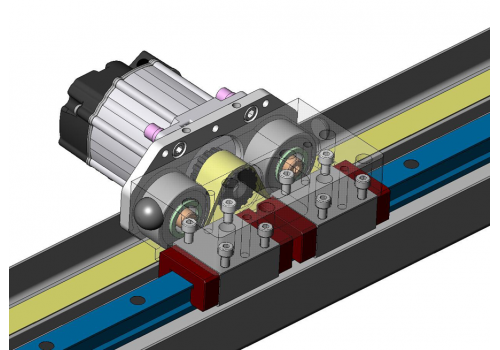 ---