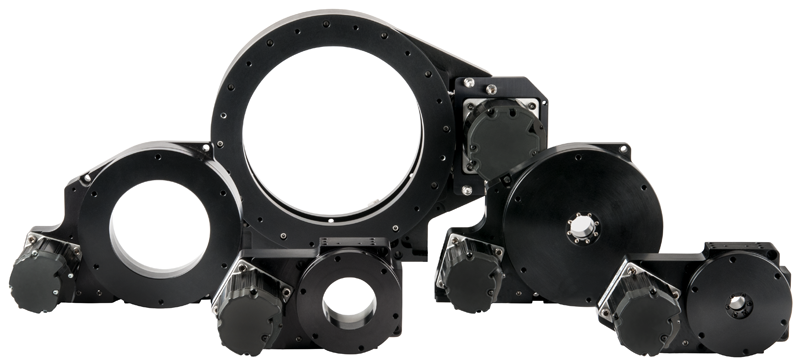 ServoBelt™ Rotary Stages Cost Up To 50% Less
ServoBelt Rotary stages are now available in a low-cost version that offers smaller through hole dimensions but otherwise keeps all the technical performance of our original ServoBelt Rotary stages.
Standard Through Hole Sizes. Available with 16- and 25-mm through holes, the new stages address the broad range of rotary motion applications that don't need to pass large bundles of utility connections through the center of the stage. For those applications that do require a large center opening, our original ServoBelt rotary models offer 50-, 100- and 200-mm through holes.
Low Cost, High Performance. By shrinking the through hole, we were able to simplify the design of SBR's angular contact bearings without affecting accuracies, speeds, load capacity or lifecycle expectations. The simplification of the bearing has resulted in cost reductions of 30 to 50%, depending on the size of the stage and options.
Complementary Products. The new and original ServoBelt Rotaries each have an application space. The new models address the widest range of motion applications with one of the most attractive cost-to-performance ratios available on the market. The original models provide a cost-effective alternative to direct drive rotary tables in optical, laser and other automation applications that truly require a large center opening.
To learn more about the new ServoBelt Rotary stages, download our technical data sheet. Or configure and get a quote at configuring a stage online.
---